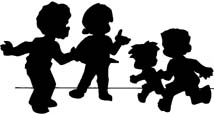 Kindergarten teaches children through a balanced curriculum and age-appropriate activities. It is here where they acquire a love of learning, respect for others, and confidence in themselves. At Barnard Elementary School, our children expand their capabilities and learn responsibilities in a safe and secure environment.
The academic programs at Barnard are in alignment with the Common Core Standards and district curriculum goals. Barnard students spend the majority of their school day with their classroom teacher participating in child-centered integrated learning activities which address the following curriculum areas: English Language Arts, Mathematics, Social Studies, Science, and Health. Many of these learning experiences are child-centered and differentiated in order to meet the needs of all the various learners in the classroom.
Teaching procedures are geared to each child's social, physical, emotional and cognitive development. The full day is demanding. We incorporate daily math, literacy and writing workshop models, as well as phonics and handwriting instruction. Children transition during the course of each week to foreign language, art, music, physical education, library, technology and lunch/recess. Maturation, independence and readiness are important factors in each child's success in kindergarten. It is important to note that most Barnard Kindergarten classes have as many as 24 students with a half-day Aide.

Here are some websites that are helpful:
AAA MathOpens in a new browser tab
Math practice for kindergarten topics

ABCyaOpens in a new browser tab
Interactive fun with letters, numbers, dot-to-dot, bingo & more

Between the LionsOpens in a new browser tab
Companion site to the PBS television program backed with research about good literacy instruction

Dog Bone MathOpens in a new browser tab
Find the bones in the 100s chart

GameGooOpens in a new browser tab
Try the Paw Park games for letter recognition and sound association

IXL MathOpens in a new browser tab
Practice problems for all areas of the math curriculum

Learning PlanetOpens in a new browser tab
A variety of literacy and math games for various grade levels

National Geographic KidsOpens in a new browser tab
Puzzles, videos, games and more

One More StoryOpens in a new browser tab
One More Story is an online library of the best of classic and contemporary children's literature. The site makes books accessible to pre-readers and early readers so that they can engage in and enjoy literature. (SUBSCRIPTON FEE)

Scholastic Learning GamesOpens in a new browser tab
Games starring Clifford, the Magic Schoolbus and more favorites!

Spooky SequencesOpens in a new browser tab
Find the number missing in the pattern

StarfallOpens in a new browser tab
A great site for emergent & beginning readers

Healthy Snack IdeasOpens in a new browser tab
A list created by our Wellness Committee - check here for some great ideas to fuel your Barnard learners!